Existe una creciente preocupación en relación a la población musulmana que se encuentra viviendo, legal o ilegalmente, en Europa. De los debates que los presidentes Chirac y Sarkozy han conducido para reafirmar la naturaleza laica del Estado francés frente al uso de símbolos culturales y religiosos como la burka, hay que sumar la presencia de elementos de Al Qaeda, que llevaron el terror de las Torres Gemelas a Madrid y Londres. Los roces tampoco han estado ausentes, como ocurrió con los disturbios y las consiguientes amenazas de muerte a los periodistas daneses que diseñaron una caricatura de Mahoma.
De un par de años a la actualidad, el conflicto cultural entre los pobladores de origen árabe y los europeos se ha acentuado, con miras a la creación de movimientos radicales que podrían terminar creando un problema a las autoridades de la Unión Europea en materia de seguridad.
Este clima de tensión se ha trasladado al ámbito académico, y en el lapso de pocos años, dos libros que han tenido notable resonancia han lanzado una severa advertencia: de continuar la actual tendencia demográfica, Europa tendrá un porcentaje significativo de descendientes de origen árabe en pocos años. Aunque Niall Ferguson lanzó esta advertencia hace algunos años en su libro La guerra del mundo, esta preocupación ha vuelto a ser puesta sobre el tapete con la aparición del libro de Christopher Caldwell. Reflections on the Revolution in Europe: Immigration, Islam, and the West (Doubleday, 2009).
Los dejo con un interesante comentario que contextualiza la presencia de los musulmanes en Europa y repasa las partes más importantes del libro de Caldwell.

Edmund Burke, Meet Tariq Ramadan
Daniel Johnson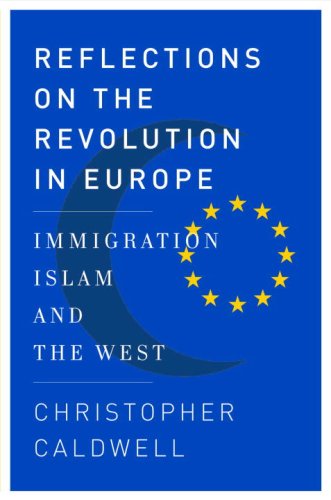 In June 2009, an incident took place at Conway Hall in London's Red Lion Square, the hallowed venue of secular leftist gatherings since the 1930s. Anjem Choudary, a radical Muslim preacher and leader of the Islamist organization al-Muhajiroun, was ejected after his followers attempted to segregate male and female members of the audience for a public debate. Choudary told the assembled media in the street outside: "This country is rife with social and economic problems and only Islam has the answer. Muslims are multiplying at a rate eight times faster than the kaffir. In a couple of generations this will be a Muslim country, inshallah. We will dominate this country, my brothers, and implement the beauty and perfection of Islam." Al–Muhajiroun members greeted the speech with cheers and cries of "God is great" and "Sharia for the UK." The crowd included Simon Keeler, the first white British Muslim convert convicted of inciting terrorism.
Leer el artículo completo aquí.